Microsoft Teams

Nothing can stop a team.
Collaborate without compromising privacy and security
Now more than ever, people need to know their virtual conversations are private and secure. At Microsoft, privacy and security are never an afterthought. It's our commitment to you—not only during this challenging time, but always. Here's how we're working to earn your trust every day with Microsoft Teams.
The hub for teamwork in Microsoft 365
Invite everyone you work with to chat, meet, call, and collaborate all in one place, no matter where you are.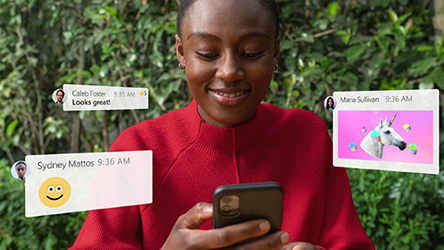 Chat from anywhere
Share your opinion, and your personality. Send gifs, stickers, and emojis in a group chat or in one-to-one messages.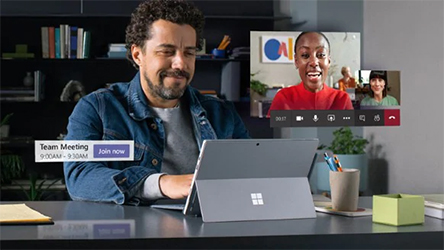 Meet from anywhere
Instantly go from group chat to video conference with the touch of a button. Teams of 10 or 10,000 can meet in one place, no matter how many places they're in.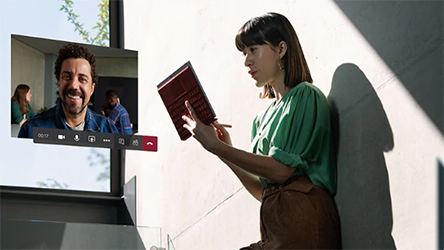 Call from anywhere
Never yell "who just joined?!" ever again. Use Teams calling, Phone System, Calling Plan, or Direct Routing to take the stress out of conference calls.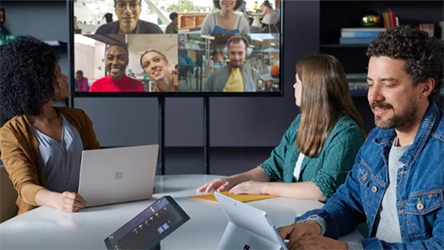 Collaborate from anywhere
Never do that frantic, searching-for-files thing ever again. In Teams you can access, share, and edit Word docs, PowerPoint, and Excel files in real time.
Achieve more together with Microsoft Teams
Meetings
Meet with teams of 10 or 10,000. Host audio, video, and web conferences with anyone inside or outside your organization or go big with live events.
Calling
Make clear and reliable calls. Combine Teams with Phone System, Calling Plan, and Direct Routing for business calling on a global scale.
Devices
Be seen and heard wherever work takes you. Use Teams devices for more intelligent meeting and calling experiences.
Apps and Workflows
Make Teams work for you. Add your favorite Microsoft and third-party services or build custom apps for your unique business needs.
Firstline Workers
Maximize the impact of your Firstline Workforce. Empower all workers with new scheduling and shift management features.
Healthcare
Provide the best care possible with help from Microsoft Teams. Collaborate and coordinate in a simple, secure way with chat, video, voice, and healthcare tools all in one hub.
Privacy and Security
Microsoft Teams is designed with IT in mind, providing management capabilities for collaboration, meetings, callings, and apps in one place with simple administration.