Microsoft Office Online

Work on Office files with anyone, anywhere, in real time—for free.
Office Online
Work on Office files with anyone, anywhere, in real time—for free. Create, store, and share documents, spreadsheets, presentations, and notebooks online. Collaboration made easy.
Applies to: Excel 2013, Office 2013, OneNote 2013, PowerPoint 2013, Word 2013, Excel 2010, OneNote 2010, PowerPoint 2010, Word 2010
Think of the Office.com home page as your start screen for online productivity.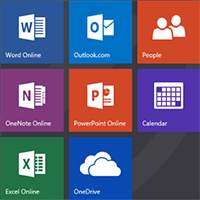 1. Click a program tile to:
Create and share Office documents (Word Online, Excel Online, PowerPoint Online, or OneNote Online)
Store, open, and share online files (OneDrive)
Send and receive email (Outlook.com)
Maintain an online calendar (Calendar)
Manage your contacts list (People)
2. Sign in once in the upper-right corner, and then switch easily among all these services. Just click the down-arrow next to the service you're using to switch to another service.

Sign in to your Microsoft account
Your user name is the email address you use to sign in to Microsoft services like Outlook.com or even Xbox Live. It's called your Microsoft account, but it doesn't need to be a Microsoft email address; it's whatever email address you want to use—the same way you sign in to any number of services on the web, like Facebook or Twitter.
NOTE: If you sign in to Office with an email address that was assigned to you at your workplace or school, click Looking for your work or school sign-in? and proceed to your Office 365 sign-in page.
Work online
Once you're signed in, the documents, spreadsheets, presentations, and notebooks you create in the Office Online programs are stored in your OneDrive (formerly called SkyDrive). You can share them via link and work on them with other people. In the Office Online programs, you can work together at the same time and see each other's changes immediately.
You can also open these online documents in the Office programs you have installed on your computer, and work on them while they're stored in your OneDrive.
Office Online runs in your web browser. There's nothing to download or install. Office.com includes hundreds of free templates as well, so you don't need to start from scratch every time you create a flyer, calendar, budget, invoice, school project, photo album, or many other kinds of documents.
Familiar Office resources are still available
If you have visited Office.com in the past, you might be wondering what happened to the things you're used to finding here: product information, templates for your Office program, downloads and updates, help and support. All those things are still here. Use the Products, Templates, Support, and My Account links at the top of the home page.