Microsoft Access

Create custom apps fast without being a developer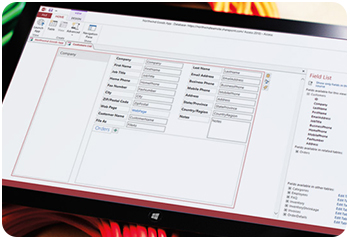 Overview:
Create
Create custom apps fast without being a developer*
Access is now much more than a way to create desktop databases. It's an easy-to-use tool for quickly creating browser-based database applications that help you run your business. Your data is automatically stored in a SQL database, so it's more secure than ever, and you can easily share your applications with colleagues.
App templates. Easily get started by creating a custom app or get inspired by a collection of new and professionally designed app templates.
Table templates. Know what you would like to track with your custom app? Simply start typing it in the "Add tables" textbox and then choose from relevant tables to quickly define fields, relationships, and rules between them. You will have a new app running in minutes!
*Access Services is required, sold separately as part of select Office 365, SharePoint Online, and SharePoint Server 2013 offers.
Experience
Experience apps that are easy to use as they grow with your business*
The "App experience". Never again worry about users getting "lost in the data" with apps that automatically keep an attractive, easy-to-use interface and consistent user experience. Access deals with the code that creates this professional look and feel.
Related items control. Users can take a peek at additional relevant information in the database without changing screens, so they have the right context when reviewing or entering information.
Autocomplete control. Entering data is now much easier and less error-prone for app users with drop downs and recommendations made upon beginning to type in data. Lookups allow for drawing relationships between records in different tables.
*Access Services is required, sold separately as part of select Office 365, SharePoint Online, and SharePoint Server 2013 offers.
Control
Share your data and control access to it more easily*
Apps for SharePoint deployment. With Access Services and SharePoint Online or On-Prem SharePoint Server 2013, Access apps can now be easily managed and monitored through a company SharePoint site in a browser. This enables multi-user accessibility and the permissions control expected from SharePoint along with visibility on app usage.
Data stored in SQL. The back end has been moved to SQL Server and Windows Azure SQL Database to allow for added reliability, robust security, scalability and long-term manageability. Access applications now leverage standard SQL syntax and a true mission-critical back end, whether deployed on-premises or in the cloud.
*Access Services is required, sold separately as part of select Office 365, SharePoint Online, and SharePoint Server 2013 offers.
What's new in Access 2013:
What's new in Access 2013? In a word, apps. An Access web app is a new type of database that you build in Access, then use and share with others as a SharePoint app in a web browser. To build an app, you just select the type of data you want to track (contacts, tasks, projects, and so on). Access creates the database structure, complete with views that let you add and edit data. Navigation and basic commands are built-in, so you can start using your app right away.
Getting started with apps
Building an app
Using your SharePoint server or Office 365 site as a host, you'll be able to build a polished, browser-based database app. Under the hood, Access apps use SQL Server to provide the best performance and data integrity. On the startup screen, click Custom web app.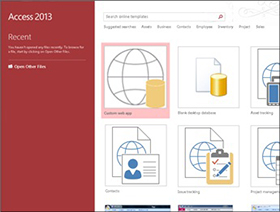 Note: With Access 2013, you can still create traditional desktop databases from scratch. Or, try out a template to create an app, a desktop database, or an Access 2010-style web database.
Table templates
Quickly add tables to your app using pre-designed table templates. If you're tracking tasks, search for the Tasks template and click it.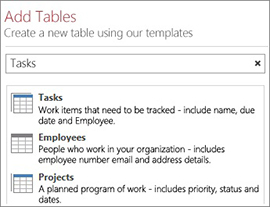 If you see the multiple-table indicator next to a template, that means Access will add commonly used related tables for you so you can get started with a truly relational database. Access creates views for each table that display data from related tables.
External data
Import data from Access desktop databases, Microsoft Excel files, ODBC data sources, text files, and SharePoint lists.

Opening in a browser
When you're done designing, don't look for a compatibility checker or a Publish button. Your app is already live—just click Launch App.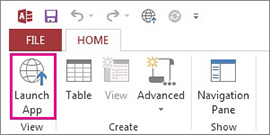 UI created automatically
Navigation included
Access apps save you the trouble of building views, switchboards and other user interface (UI) elements. Table names show up on the left edge of the window, and the views for each table appear across the top: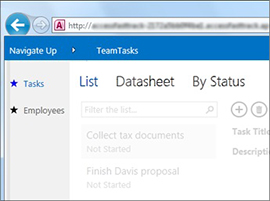 All apps have a similar navigation structure, making it easier for people to learn and switch between apps. You can always add more custom views besides the ones provided by the app.
The Action Bar
The built-in views each have an Action Bar with buttons for adding, editing, saving, and deleting items. You can add more buttons to this bar to run any custom macros you build, or you can remove buttons you don't want people to use.

Views easier to modify
Apps let you put controls where you want them without making adjustments to the layout first. Just drag and drop—the other controls move out of the way to make room.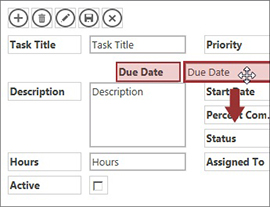 Callouts for setting properties
Instead of searching through a property sheet for a particular setting, settings are available via callouts located conveniently next to each section or control.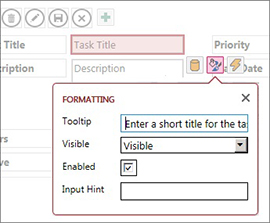 New controls for working with related data
Related Items control
The Related Items control provides a quick way to list and summarize data from a related table or query. Click an item to open a detail view for that item.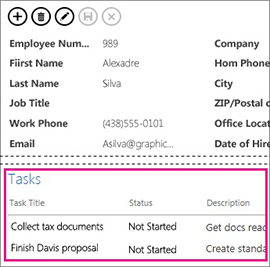 AutoComplete control
The AutoComplete control looks up data from a related table. Think of a combo box that works more like an instant search box.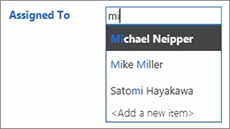 Drill-through links
Drill-through links let you quickly view details about a related item. Access apps handle the behind-the-scenes logic to make sure the right data is displayed.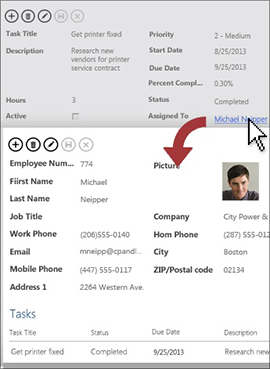 New deployment options
Permissions improvements
Get more control over who can modify your app. SharePoint now comes with three default permissions levels–Designer, Author, and Reader. Only Designers can make design changes to views and tables. Authors can change data but not the design, and Readers (you guessed it) can only read existing data.
Package and distribute apps
Access apps can be saved as package files and then added to your Corporate Catalog or the Office Store. At the Office Store, you can distribute your app for free, or you can charge a fee and make some spending money.