Microsoft Migration Accelerator
Seamlessly migrate active workloads into Microsoft Azure, with nearly zero downtime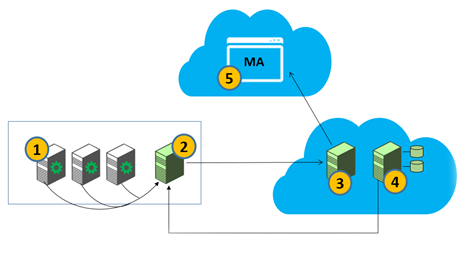 Microsoft Migration Accelerator acts as a gateway from your current infrastructure into Azure. Microsoft Migration Accelerator creates a hybrid cloud environment by discovering, replicating and maintaining a near real-time sync between your production systems and Microsoft Azure. When ready, seamlessly cutover to Azure.
How do you easily move your existing workloads into Microsoft Azure with minimal impact to your production systems? Microsoft Migration Accelerator transitions physical and virtual machines into Microsoft Azure in minutes, with near zero downtime or data loss.
End-to-end migration scenarios, from asset discovery to network reconfiguration in Azure can be configured in minutes. Simplify multi-tier application migrations to Azure with full application consistency. Microsoft Migration Accelerator can automatically orchestrate the startup order of applications in Azure, to ensure no manual configurations are required to obtain uniformity with your source.
The built-in Migration Profiler helps determine the size, activity and performance requirements of workloads to ensure compatibility with Azure and that the correct Azure templates are being used prior to migration. The Migration Profiler monitors change rates, replication differential, asset health and more.
Replicate and test your workloads on Azure before committing to a cutover. Once replicated into Azure, you can validate and test your running workload in the cloud at your leisure. When you're ready, a full cutover can be performed in minutes, with just a few quick clicks.
Benefits
Fast, pain-free migration with every critical step handled through intelligent automation
Near zero downtime with near synchronous replication after initial sync
Heterogeneous platform support, including VMware, Hyper-V, AWS and physical servers
Auto adaptation of resources into Azure
Microsoft Server & Cloud Platform
Microsoft Migration Accelerator