Microsoft Office Home & Student 2019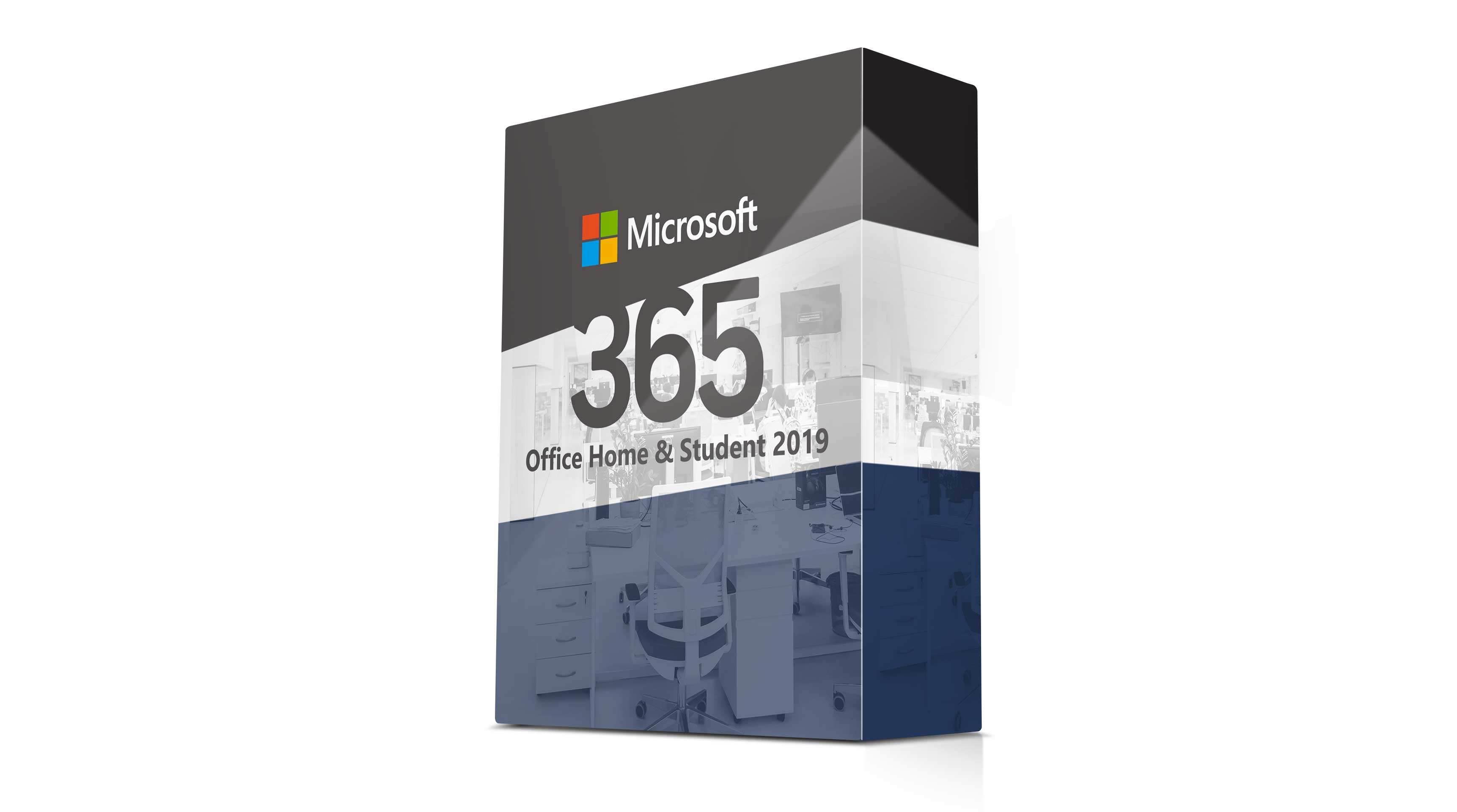 Microsoft 365 Office Home & Student 2019
Microsoft 365 Office Home & Student 2019 Plans
Overview:
Key Features
The essentials to get it all done. Office Home and Student 2019 is for students and families who want classic Office apps including Word, Excel, and PowerPoint for Windows 10. A one-time purchase installed on 1 PC or Mac for use at home or school.

A one-time purchase

Install on one PC or Mac

Classic Office apps

Word

Excel

PowerPoint
Requirements
PC

Microsoft account
Internet access
Windows 10
1.6 GHz, 2-core processor
4 GB, 2 GB (32bit) RAM
4 GB available disk space
1280× 768 screen resolution.

Mac

Microsoft account
Internet access
Intel processor
4 GB RAM
10 GB available disk space
Mac OS Extended or APFS
1280 × 800 screen resolution.
Microsoft 365: Compare Plans
Microsoft 365 Family

(formerly Office 365 Home)
One convenient subscription for up to 6 people. Includes premium productivity apps, up to 6 TB of cloud storage (1 TB per person), and advanced security for all your devices.
Premium apps included
Services included
Microsoft 365 Personal

(formerly Office 365 Personal)
One convenient subscription that includes premium productivity apps, 1 TB of cloud storage, and advanced security for all your devices.
Premium apps included
Services included
Office Home & Student 2019

One-time purchase
The essentials for individuals to get it all done. Classic versions of the Office apps installed on 1 PC or Mac.
Premium apps included
Services included
(not included)
Microsoft 365 Family
Microsoft 365 Personal
Office Home & Student 2019
Usage
Up to 6 people
1 person
1 PC/Mac
Word, Excel, PowerPoint, OneNote1
Work offline and apply advanced formatting with powerful desktop apps.
Premium
Premium
Classic
OneDrive cloud storage
Back up and access your files and photos across your devices. Save your Office documents to OneDrive to enable AutoSave and easy sharing.
Up to 6 TB
(1 TB per person)
1 TB
Outlook
Bring your email and calendars together in one desktop app.
AI-powered creative tools
Get helpful design and writing suggestions with features like Designer, Ideas, and the new Microsoft Editor.
Premium creative content
Access an extended collection of royalty-free creative content, including templates, stock photos, icons, and fonts.
OneDrive Advanced Security
Know your files are protected with built-in ransomware detection and recovery2 and use two-step identity verification to access your most important files in OneDrive Personal Vault.
Skype
Keep in touch with friends and family on their mobile phones or landlines with 60 minutes of Skype calling per month.3
Works on Windows, macOS, iOS, and Android4
Use on your favorite devices at home or on the go.
Access to the latest updates
Stay ahead of the curve with access to the latest features as soon as they're released.
Special partner offers
Access to new and unique benefits from several Microsoft partners.
Ongoing technical support
Get help via chat or phone at no extra cost throughout your subscription.
How to buy
Purchase an annual or monthly subscription5
Purchase an annual or monthly subscription5
One-time purchase
Office Home & Business 2019
One-time purchase for 1 PC or Mac
Classic 2019 versions of Word, Excel, PowerPoint and Outlook
Microsoft support included for 60 days at no extra cost
Licensed for home and commercial use
OneNote features vary by platform.
OneDrive ransomware recovery allows you to recover previous file versions for up to 30 days prior from the date of the attack.
60 monthly minutes. Skype account required. Excludes special, premium, and non-geographic numbers. Calls to phones are for select countries only. Skype minutes available in select countries. Exclusions apply. See more information here.
App availability varies by device/language. iOS and Android require separate app download.
Cancel anytime to stop future charges.
FAQs
What's the difference between Microsoft 365 subscription plans and Office as a one-time purchase?
With Microsoft 365 subscription plans you get the premium Office applications: Word, Excel, PowerPoint, OneNote, Outlook, Publisher, and Access (Publisher and Access are available on PC only). In addition, you get 1TB of OneDrive cloud storage, advanced security features, support from Microsoft experts, and more. You can install Microsoft 365 across multiple devices, including PCs, Macs, Android™ tablets, Android phones, iPad®, and iPhone®. When you have an active Microsoft 365 subscription, you always have the most up-to-date version of the Office applications.
Office 2019 is a one-time purchase that includes classic applications such as Word, Excel, and PowerPoint for use on a single PC or Mac. The applications are not automatically updated; to get the latest version, you must purchase Office again when the new version becomes available. Current Office application versions available for one-time purchase are Office 2019. Previous versions include Office 2016,Office 2013, Office 2011 for Mac,Office 2010,Office 2007, Office 2008 for Mac, and Office 2004 for Mac. Office 2010 and Office 2007 are compatible with Windows 8.1 and earlier. Office as a one-time purchase does not include any of the services included in Microsoft 365
How do I know my PC or Mac can run Office?
You can check if your device can support your version of Office by viewing the full Office system requirements.
Will Office be identical on a PC, a Mac, and a mobile device?
No. Office applications are tailored to work best on each platform and device. The Office applications available for Mac users and the version numbers may be different from those available for PC users.
Can people with an earlier version of Office open documents I created using Microsoft 365 or Office 2019?
Microsoft 365, Office 2019, Office 2016, Office 2013, Office 2010, Office 2007, Office for Mac 2011, and Office for Mac 2008 applications can open your documents without any additional action. Customers using earlier versions of Office may need to download and install a compatibility pack.
Do I keep control of my documents with an Microsoft 365 subscription?
Yes. Documents that you have created belong fully to you. You can choose to store them online on OneDrive or locally on your PC or Mac.
Is Internet access required for Office or Microsoft 365?
Internet access is required to install and activate all the latest releases of Office suites and all Microsoft 365 subscription plans. For Microsoft 365 plans, Internet access is also needed to manage your subscription account, for example to install Office on other PCs or to change billing options. Internet access is also required to access documents stored on OneDrive, unless you install the OneDrive desktop app. You should also connect to the Internet regularly to keep your version of Office up to date and benefit from automatic upgrades. If you do not connect to the Internet at least every 31 days, your applications will go into reduced functionality mode, which means that you can view or print your documents, but cannot edit the documents or create new ones. To reactivate your Office applications, simply reconnect to the Internet.
You do not need to be connected to the Internet to use the Office applications, such as Word, Excel, and PowerPoint, because the applications are fully installed on your computer.
What is a Microsoft account and why do I need it to try or buy Office?
Your Microsoft account is the combination of an email address and password that you use to sign in to services like Hotmail, OneDrive, Windows Phone, Xbox LIVE, and Outlook.com. If you use any of these services, you already have a Microsoft account that you can use, or you can create a new account. Learn more about a Microsoft account. As part of signing up for a trial or purchasing Office, you will be prompted to sign in with a Microsoft account. You must be signed in with this account to install and manage your Office software, or to use some subscription benefits, including OneDrive storage and Skype minutes.
What is the maximum number of Office licenses I can activate using the same Microsoft account?
Users can activate 1 subscription for Microsoft 365 Family and Microsoft 365 Personal and up to 25 licenses for Office Home & Student 2019, Office Home & Business 2019, and Office Professional 2019.
Pricing Notes:
Pricing and product availability subject to change without notice.
Microsoft 365 Office Home & Student 2019
Microsoft 365 Office Home & Student 2019 Plans